Eko Smart Solutions (ESS) offers customers and affiliates a solid, proven operating infrastructure and experience in project planning, design, implementation, and reporting.
ESS staff consists of architectural and civil engineers with extensive cross training in building construction, construction management, and project management.  Staff are  trained and certified with Building Performance Institute (BPI) Building Analysts. BPI building analysts are certified to conduct blower-door tests, combustion appliance inspection, carbon monoxide detection, HVAC air handler flow testing, fan flow meter and air/moisture testing in addition to other services.  ESS are infrared certified and have extensive training with the Occupational Safety Health Administration (OSHA) and active members with the US Green Building Council (USGBC).      
BPI Certified: The Building Performance Institute (BPI) is the nation's leading building science accreditation organization.  The "house as a system" philosophy – looks at a building's various components (building envelope, attic, basement, combustion equipment, ventilation sources) and the interrelationship between them to maximize a home's performance. This approach leads to greater energy efficiency, but perhaps more importantly to buildings that simply work better. A home that has been analyzed and upgraded from a whole-house standpoint is more durable, healthier, more comfortable, and more energy-efficient.  I am certified to conduct blower-door tests, combustion appliance inspection and repair, air quality testing including carbon monoxide detection, duct testing, and air flow testing in addition to other contracting services.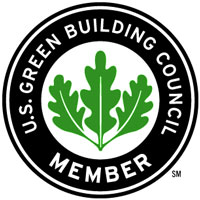 USGBC Member: The US Green Building Council is one of the United States premier green building organizations.  It has 77 chapters, 13,000 members and 181,000 LEED professionals that share the vision of a sustainability environment. USGBC founded the LEED program for buildings and communities and remains one of its most popular programs to ensure the proliferation of best practices in the built environment.
Efficiency First: Efficiency First is a national nonprofit trade association that unites the Home Performance workforce, building product manufacturers and related businesses and organizations in the escalating fight against global warming and rising energy costs. Efficiency First promotes the benefits of efficiency retrofitting to meet the unprecedented demand for quality residential energy improvements.
ENERGYSTAR Partner:  Energy Star is a joint program of the U.S. Environmental Protection Agency and the U.S. Department of Energy, helping us all save money and protect the environment through energy-efficient products and practices. Home Performance with ENERGY STAR offers homeowners a comprehensive approach to home improvements that provides better energy efficiency, greater comfort, and lower utility bills. Specially-trained contractors evaluate homes using state-of-the- art equipment and recommend comprehensive improvements that will yield the best results.  Partners employ a whole-house approach to solving common home performance problems.
Infrared Certified:  Certification by the International Association of Certified Home Inspectors and identified as "Thermal Imaging and Building Science".  Infrared Thermography is the most important and cost effective element of any maintenance program. Research shows an average of 40% return on investment for every dollar spent on infrared inspections. As a skilled thermographer with a thorough knowledge of construction,  we can detect structure failures long before any other testing method reducing down time, saving equipment costs and increasing personnel safety.
Dunn and Bradstreet – An American Company that provides commercial data to business on credit history, business – to – business sales and marketing, counterparty risk exposure, supply chain management, lead scoring and social identity matching.
Angie's List – A U.S. based support website containing crowd-source reviews of local businesses.  Angie's List members grade companies using a report-card style scale, which ranges from A to F.  These ratings are based on the following criteria: price, quality, responsiveness, punctuality, and professionalism.